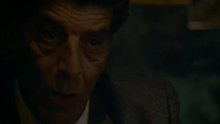 Don Vittorio is a mobster in the 1991 movie Out For Justice.
He was played by Ronald Maccone.
Despite what it seems, Don is only out to get Richie Madono for his own personal reasons - because he's a threat to his turf. In the store with Gino he lies that honor is the reason. In reality, he's just trying to push his agenda on Gino. In one scene we see the true reason why he wants to get revenge on Madono. He first says, "That piece of shit couldn't be a gangster if he owned New York City." He then reveals his motivation. "Get him. We can't stand this bad publicity." Gino finally stands up to him saying, "I'm not one of you and I ain't with you." In fact, he's a hypocrite. One of his men is pals with Madono's crew, Sammy. He's a liar who is only worried about himself.