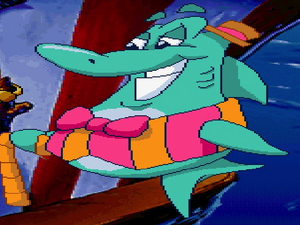 Gill Barker
is the possible
main antagonist
of
Freddi Fish 3: The Case of the Stolen Conch Shell
and possibly
that
of
Freddi Fish 4: The Case of the Hogfish Rustlers
. Of course, he may not always be the villain, but this is about when he is. He is a shark who is a salesman of some sort.
It is revealed in Freddi Fish 5: The Creature at Coral Cove that Gill has a twin sister named Gillian. In fact, he only appears on a picture.
His First Appearance
Of course, while he is one of the six suspects, the thief does not always turn out to be Gill. If the object in the thief's bag is a cane, Gill Barker is the thief. It turned out he had done it because the day of the Conch Festival was the day of the year when nobody comes to his carnival, and if nobody comes to his carnival, he makes no money. From this explanation, Freddi asks him what money is compared to the happiness that the festival brings every sea creature. Admitting that there were winners and losers and that he doesn't feel like a winner, Gill Barker returns the conch to Uncle Blenny and apologizes to him. Although, throughout the credits in the background, he is the one patted on the back, he is sentenced to silently working in the library for 4672 hours.
His Second Appearance
It is possible, though not always true for every gameplay, that Gill might have been "Mr. Big" in charge of Goby and Moray because of financial trouble he is in over which he'd attempted to borrow money to invest in his fabulous gum because his sales weren't good. When he is shown to be "Mr. Big," it was shown by Freddi and Luther witnessing the hogfish chewing a lot of gum (any that he wasn't selling), He had figured that even if he couldn't sell the hogfish, he could at least be a hogfish rancher, which is more refined than sales.
Like anyone else who could be "Mr. Big," Gill is sentenced to doing ranch work with Goby and Moray.