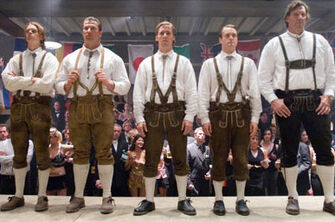 The German Drinking Team consists of the main antagonists in the 2006 comedy film Beerfest. The members are Otto, Rolf, Gunter, and two muscle-bound thugs, Hammacher and Schlemmer.
During a visit to Germany, brothers Todd and Jan Wolfhouse discover Beerfest, a top-secret international drinking competition. After being humiliated by the German team (despite some of them being Todd and Jan's cousins), they vow to return the following year with a drinking team of their own to beat them. While training with three of their college friends, they discover the recipe for the world's greatest beer, which the German team claims belongs to them.
A year later, Todd and Jan return to Beerfest with their friends and defeat the Germans.
Ad blocker interference detected!
Wikia is a free-to-use site that makes money from advertising. We have a modified experience for viewers using ad blockers

Wikia is not accessible if you've made further modifications. Remove the custom ad blocker rule(s) and the page will load as expected.