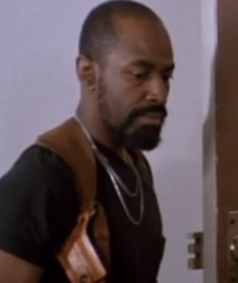 Skeet was a gangster in the 1991 movie Straight Outta Brooklyn.
He was played Robert N. Nash.
He was someone who sold guns to criminals. We first see him when Kevin comes to him asking help for a favor. When Kevin asks him, he freaks out. He's reluctant to give into Kevin's request. He is also very monsterous to those who think of disrespecting him, in which case he threatens to do to Larry Love. He tells Kevin that he hates doing criminal activies on a regular basis. He reluctantly agrees to give into to Kevin's request, but warns him that if he messes up he'll abandon him. He's similar to Paulie in GoodFellas. He gives Kevin a rifle. He then says he, "Don't let me have to read about you in the papers." When they leave, he grabs Larry Love and threatens him, calling him a "bitch" and warning him never to disrespect him like that. 
Ad blocker interference detected!
Wikia is a free-to-use site that makes money from advertising. We have a modified experience for viewers using ad blockers

Wikia is not accessible if you've made further modifications. Remove the custom ad blocker rule(s) and the page will load as expected.