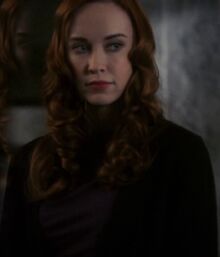 Genevieve was a major main antagonist of the first season of The Originals and was a powerful witch, who was a leader of the New Orleans Witch Coven, and wanted revenge on the Mikaelson Family, mostly Rebekah, due to her betrayal.
Genevieve was once a sweet, honest and innocently good person until Rebekah sacrificed her, so as revenge, she tells Klaus about her betrayal, causing him to go on a wrathful rage against Rebekah.
She has proven to be a dangerous enemy of the Mikaelsons as she was also plotting against them and also saw Klaus and Hayley's child as a threat and made a deal with Francesca to make moonlight rings for her family.
Her and Monique then kidnapped Hayley when her water broke and when Hayley gave birth, Monique slit her throat and used the baby as a sacrifice, as Esther ordered the murder on the child.
This causes Klaus, Hayley and Elijah to fight for the child and fight a battle with the ancestral witches and Genevieve but Marcel saved the baby by killing Monique.
Later on, Hayley killed Genevieve as revenge.