| | | |
| --- | --- | --- |
| " | Dogs of Shinra, but what do you know? | " |
| | ~ Genesis | |
| | | |
| --- | --- | --- |
| " | My soul, corrupted by vengeance, hath endured torment to find the end of the journey, in my own salvation and your eternal slumber. | " |
| | ~ Genesis Rhapsodos. | |
Genesis Rhapsodos
is a character from the
Compilation of Final Fantasy VII
and the main antagonist in
Crisis Core -Final Fantasy VII-
. Genesis is a former SOLDIER first class in Shinra Electric Power Company before the events of the game. Being a SOLDIER, Genesis possess a strong loyalty towards the company and just like Angeal and Sephiroth, they share the same dream; to become heroes.
Genesis is an imperfect product from the experiments in Jenova Project, which causes his cells to slowly degrade: affecting his skin, hair color, and physical performance. As a result, Genesis turns against Shinra and instigates a rebellion by forging a pact with Dr. Hollander, creating an army of Genesis copies in the hopes of restoring himself to his original state.
Aside from being a skilled swordsman, Genesis also loves to recite his favorite poem entitled LOVELESS and every verses are all memorized.
Crisis Core -Final Fantasy VII-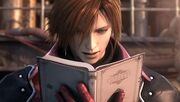 In Crisis Core -Final Fantasy VII-, Genesis was one of the three most powerful SOLDIER members, along with Angeal and Sephiroth. They were all good friends, and were all unknowing subjects of experimentation with Jenova cells. The trio often spared with each other for fun. However, Sephiroth and Genesis often took these matches too seriously, leaving Angeal as the voice of reason. Genesis is jealous of Sephiroth being the SOLDIER hero, and wishes to defeat him so he can be the new hero. But, Sephiroth is able to beat him.
Genesis possess cells from a women named Gillian, who had Jenova cells in her. He was an experiment created by the Shinra science department, headed by Professor Hollander at the time, who were trying to make more powerful SOLDIERs by using the cells of an ancient alien. However, Genesis was not a perfect being, and his body started degrading. He betrayed Shinra to join Professor Hollander. The Professor created Genesis copies to make an entire army, as he searched for a way to stop Genesis from degrading. Hollander wanted revenge on Shinra, so he often attacked them with the copies.
As Sephiroth is discovering what he really is, Genesis reveals that he has perfect cells, that the only cells he has are from Jenova, and that because of that he would never degrade. Genesis asked Sephiroth for a cell sample so that he may stop degrading, but Sephiroth refuses. Once Sephiroth is "dead", Zack and Cloud are experimented upon, and Genesis seeks Zack out, looking for S cells (Sephiroth). However, when one of his copies eats Zack's hair, it causes it to mutate into a monster.
LOVELESS
Genesis loves an old play called LOVELESS, and has spent his life reading, and pondering it what the fifth act, which is lost, could be. He often recites it, and at a certain point, it seems as if he believes that it is more of a prophecy than just a simple play. LOVELESS mentions the "gift of the goddess", which Genesis believes is a cure for his degradation. For a moment, he is seen in the lifestream, a place where the plane's energy goes through, and sees the "goddess", before Zack confronts him in the final battle.
Other Appearances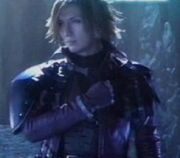 In FFVII: Dirge of Cerberus, Genesis appears in a secret ending if you collect all the "G reports". His full name is never said in this game, he is only referred to as "G". not to mention, he is reletad to weiss.