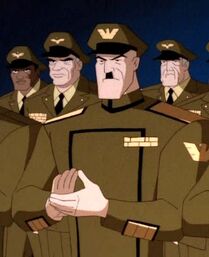 General Norman is a villain from the series, Batman Beyond, who was paranoid of a group of heroes known as the Terrific Trio, created by Howard Hugges, to such a degree he actively sought their destruction rather than any sort of compromise: this in turn caused the Trio to go on a rampage across Gotham.
He is one of many characters in fiction who are both part of the military and also corrupt, this is especially common in superhero fiction - thus General Norman is part of a very well known villain archetype.
Role In Series
Appearance
Powers / Abilities
General Norman is a "baseline" human - in other words he functions much as a man his age would in the "real world", of course being in the military he is likely highly trained in numerous fields of combat and a mind geared towards such things, it is unclear exactly how far his skills would be compared to other Generals in the DC universe.
Personality
Trivia
General Norman is one of relatively few antagonists in Batman Beyond who may never of faced any consequences for his crimes.