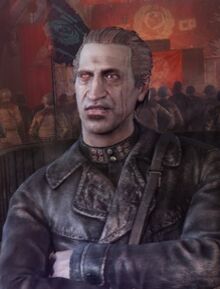 General Czeslav Andreyevich Korbut is a major character and the main antagonist of the video game Metro: Last Light. Korbut is the true leader of the communist faction within the underground community known as "The Metro". He seeks to control the entire Metro and it's people by destroying the current leadership and other factions within it.
Biography
After the bombs dropped and the society of Russia took to living in the undergound Metro different factions began to rise one being the communist party in which Korbut served as the top advisor. Korbut began to set in motion a plan that would ultimately put him in charge of the communist faction by convincing the leader's brother, Maxim Moskvin, that his brother was plotting to have him killed. Korbut eventually succeeded in his plan and Moskvin poisoned his own brother before usurping the leadership for himself, however Korbut blackmailed Moskivin into obeying his every whim and command by holding his borther's murder over his head. Korbut's main goal however, was to capture a "Dark One", a superhuman humanoid mutant hybrid with extremely powerful telepathic abilities. However Korbut's plan never came to fruition as the Dark One race was wiped out by a single Metro Ranger named Artyom. This set back forced Korbut to come up with a secondary plan that could give him the power he needed to take control of the entire Metro.
Metro: Last Light
Ad blocker interference detected!
Wikia is a free-to-use site that makes money from advertising. We have a modified experience for viewers using ad blockers

Wikia is not accessible if you've made further modifications. Remove the custom ad blocker rule(s) and the page will load as expected.