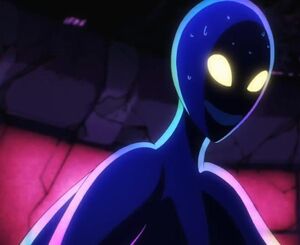 Geluganshp is a villain from One Punch Man. A member of the Dark Matter Thieves, he is a blue alien with a body comprised of a head and various tentacles coming from it. He is considered one of their strongest warriors, along with Groribas and Melzalgald, and believes himself to be the most powerful psychic in the universe.
Geluganshp is mostly seen operating the alien's mothership. After Saitama invades the ship and kills various of their soldiers, including Groribas, Lord Boros orders him to team up with Melzalgald to stop the intruder. Geluganshp contacts Melzalgald telepathically, but is unable to bring him back to the ship, since Melzalgald was busy fighting the heroes on the ground. Geluganshp eventually talks telepathically with Saitama, telling him to leave the ship immediately, but since he was lost Geluganshp tell him the directions to the exit. However, Saitama decides to go in the opposite direction, which takes him directly to the control room. Geluganshp decides to fight Saitama, using his powers to create a massive gravity pull equivalent to a black hole, but Saitama is unaffected, so he uses his powers again to toss a lot of sharp rock at Saitama. Unscathed, Saitama tells him that tossing rocks around is a waste of powers, so he tosses a rock back at Geluganshp, splitting his head in half and killing him instantly.
Ad blocker interference detected!
Wikia is a free-to-use site that makes money from advertising. We have a modified experience for viewers using ad blockers

Wikia is not accessible if you've made further modifications. Remove the custom ad blocker rule(s) and the page will load as expected.