Geek Gorgon was a villain in the 2000 AD comic strip Judge Dredd. He appeared in prog 44.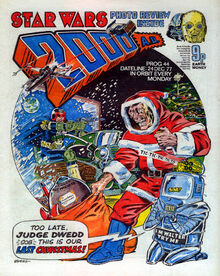 Biography
He was a vicious criminal whose face was badly burned in a fire and was arrested by Dredd and sent to a prison on the moon three years before the events of this strip. He managed to escape and abducted Dredd's robot servant, Walter and told him to meet him in room 9 at the Herman's Hotel at night alone or he'll destroy the robot. Dredd recognises him and proceeds to put Flexi-Steel on his neck and proceeds to the hotel, where Dredd does a surprise attack on the side entrance but while pinned, Gorgon threatened to destroy Walter with his switch and prepares to strike Dredd with his blade on the neck. When he strikes Dredd on the neck, he finds out that his blade was cracked and Dredd proceeds to knock him out. He was arrested after.
Gallery
Ad blocker interference detected!
Wikia is a free-to-use site that makes money from advertising. We have a modified experience for viewers using ad blockers

Wikia is not accessible if you've made further modifications. Remove the custom ad blocker rule(s) and the page will load as expected.