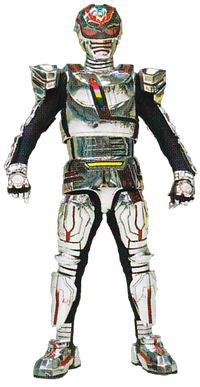 Gavan Bootleg is a robot warrior which replicated all of Gavan's abilities, using the combined technologies of the Zangyack and the Space Police.
It also has a handgun and the ability to pull an opponent into the Makuu Space.
It is destroyed by Gavan.
Trivia
Gavan Bootleg is similar to Chinomanako in Kamen Rider Decade: Shinkenger World in that both are villains in a crossover between Super Sentai and another tokusatsu franchise, and both are based on the heroes of the other franchise. Gavan Bootleg is based off Space Sheriff Gavan while Chinomanako becomes a cross between Ayakashi and Kamen Rider Diend.
Gavan Bootleg is somewhat similar to the V-1 System of Kamen Rider Agito.
Ad blocker interference detected!
Wikia is a free-to-use site that makes money from advertising. We have a modified experience for viewers using ad blockers

Wikia is not accessible if you've made further modifications. Remove the custom ad blocker rule(s) and the page will load as expected.