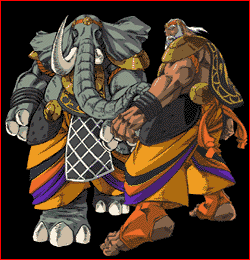 Ganesha (real name Golan Draphan) is a fictional character from the Bloody Roar series. His beast form is the elephant. He only appears as a character in the games, Bloody Roar: Primal Fury/Extreme.
Ganesha didn't know what to do. He had won all the local tournaments and qualified for the national competition. But he knew if he beat all the guest warriors, he would be a rival against Cronos. He knew he had to do it. He thinks back, to a chaotic day some time ago. Burning houses... Frightened people trying to escape... A child growing cold in his arms... A monster standing amongst the flames... It was humans to start wars like this, but it was that monster that derived everything. He mutters, 'Prince Cronos' to himself... Ganesha rests a defeated Cronos down on the floor. He apologises, saying it was the only way. It surprises him to see the Prince cry. He starts to explain that he will understand one day when he is suddenly attacked by Cronos, now in his phoenix form. Ganesha weakly reaches out to him before passing out.
Ad blocker interference detected!
Wikia is a free-to-use site that makes money from advertising. We have a modified experience for viewers using ad blockers

Wikia is not accessible if you've made further modifications. Remove the custom ad blocker rule(s) and the page will load as expected.