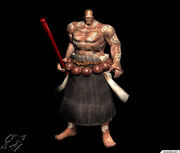 Ganda is one of Tenrai's lords of darkness in Tenchu: Wrath of Heaven. In Rikimaru's story, Ganda assists Kagura in taking over the Buddha Temple in Gohda's realm. After reaching the main chamber, Rikimaru faces Kagura as she empowered Ganda with healing scriptures. After Rikimaru kills Kagura, he felt he had a chance against Ganda when Tatsumaru stepped in and executed Ganda.
In Ayame's story, Ganda is sent to the Buddha Temple to capture the Jewel of Heaven from the Buddha Statue's eye. Ayame fights Ganda at the temple's gate and kills him before heading inside.
Tesshu's story gives Ganda a more evil religious role. Ganda had taken part in the plan to kidnap village girls and sell them off, but Tesshu was sent to the Buddha Temple to slay the giant monk. After a fierce battle, Tesshue kills Ganda then escapes to meet Senkichi by the waterfalls.