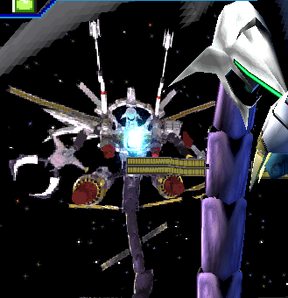 Galacticmon
is the final boss from
Digimon World 3
. He is the evolved form of Snatchmon, after fusing with the Gunslinger Space Station. Snatchmon had been created by
Lord Megadeath
by fusing four
Vemmon
, intended to be the strongest Digimon and help him conquer the world. However, Snatchmon refuses to obey Lord Megadeath, attacking him and absorbing his data, all while Junior, the main character, watches the entire scene.
Snatchmon
tells Junior that he will digivolve to Galacticmon after fusing with the Gunslinger, and after that he will fuse with the entire planet Earth to digivolve into Gaiamon. Since this would mean the end of all life in Earth, Junior decides to stop Snatchmon, who challenges Junior for a battle, teleporting him and his Digimon partners to the outside, and then fusing with the Gunslinger, digivolving into Galacticmon. After a fierce battle, Junior defeats the colossal Digimon, who falls into Earth's atmosphere and breaks apart.
Ad blocker interference detected!
Wikia is a free-to-use site that makes money from advertising. We have a modified experience for viewers using ad blockers

Wikia is not accessible if you've made further modifications. Remove the custom ad blocker rule(s) and the page will load as expected.