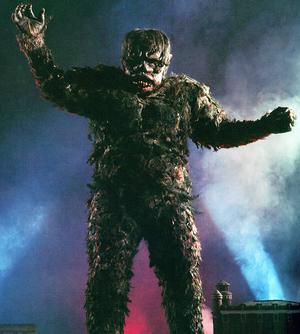 Gaira (in Japanese: ガイラ Gaira) is a Frankenstein-spawn kaiju created by Toho that first appeared in the 1966 Toho film, War of the Gargantuas. He was portrayed by the late Haruo Nakajima.
Gaira resembles his "brother," Sanda, being a humanoid giant monster whose body is covered in fur. However, Gaira's skin and fur are a greenish color, and his fur somewhat resembles seaweed, loosely hanging on his body. The top of Gaira's head is flat, his nose is very large and wide, and he has a noticeable underbite, with two fangs on his lower jaw extending outside of his mouth.
In Go! Godman, Gaira has a new head, with no fangs on his lower jaw and a mane of brown hair around his head. In the follow-up series,Go! Greenman, Gaira's suit is worn and beginning to decay, and appears as a much darker color, with much of the suit's fur having fallen off.
In the 2008 Go! Godman film, a new Gaira suit was constructed to replicate his appearance inWar of the Gargantuas. This new suit, designed by Fuyuki Shinada, is nearly identical to Gaira's original appearance, only being a lighter shade of green.