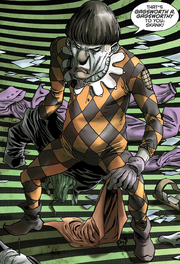 Gaggy Gagsworthy
was once a member of the circus before joining
the Joker
in a life of crime. As part of the circus, Gaggy was a tightrope walker until the circus hired a new act, The Flying Graysons. Gaggy was then sent to be a clown and part of a freakshow, which he resented.
During an act in which Gaggy lashed out on one of his fellow clowns, he caught the attention of the Joker. Willing to kill anyone for laughs, Gaggy teamed up with the Joker, becoming Joker's answer to Robin. Together they committed many crimes using gags and props. They were eventually sent to jail after being defeated by Batman and Robin.After Joker lost it one day and killed six other inmates. Joker was sent to
Arkham
and Gaggy was left in prison. Once released, Gaggy returned to their old lair, ready to continue his life of crime with the Joker. But he soon learned that Joker had a new sidekick,
Harley Quinn
. He believes Harley has changed the Joker from the fun loving Clown Prince of Crime into a psychopath.
Television History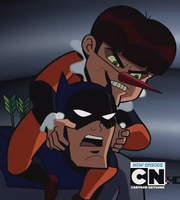 Gaggy appears in "Night of the Batmen" when he subdues Green Arrow disguised as Batman.