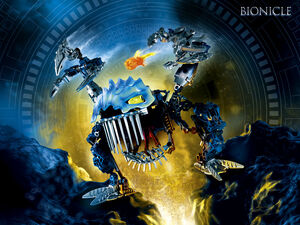 Gadunka
is a major antagonist in the Lego
BIONICLE
series. It was once a small Rahi before it was unwittingly exposed itself to the Kanohi Ignika's energy, thus transforming into a large, vicious monster.
History
When Nocturn placed the Kanohi Ignika onto the seaweeds, a lone Gadunka scurried under the mask for shelter, unknowingly exposing itself to the mask's energy. The energy then transformerd Gadunka into the form of the monstrous creature.
Personality
Despite being enlarged, Gadunka's intelligence never changed. It was still driven by the two thoughts it had before: eat and survive. Along with the rest of its species, it was also extremely territorial and protective, willing to defeat any competition that got in its way for any small piece of land.
Gallery