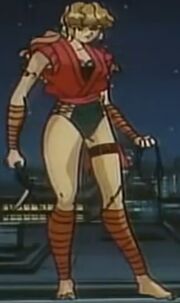 Fubuki Kai
is a self-made ninja, she goes after Miko Mido to prove that she is more talented than her, and more worthy of the title of headmaster of the Miroku ninja clan. Defeated in a sexual duel, she is adopted by the Shikima and becomes a friend of Miko. When adopted by the Shikima, she is turned into a Shikima, since she desired enough power to equal Miko Mido. She is fond of her new form, but also irritates Miko by being better than her. She First appeared in Manga vol. 6 and OAV vol. 5. She's in the age of 16. Her Occupation is a Ninja and a High-school student. The Affiliations of Fubuki Kai is Miroku ninja clan and Shikima Kingdom, which she was adopted from. She's voiced by Junko Asami in Japanese.
Ad blocker interference detected!
Wikia is a free-to-use site that makes money from advertising. We have a modified experience for viewers using ad blockers

Wikia is not accessible if you've made further modifications. Remove the custom ad blocker rule(s) and the page will load as expected.