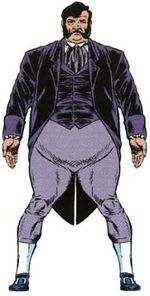 Friedrich Von Roehm was apparently German by birth. He operated a jewelry shop on New York City's Park Avenue. Von Roehm was also secretly a lycanthrope and a high priest of the supernatural being and self-described goddess Selene. Von Roehm, who had worshiped Selene as a goddess, became her personal servant when she showed up in his jewelry shop.
As a member of the Hellfire Club, Von Roehm sponsored Selene for membership. Selene became the new Black Queen, and Von Roehm served as the Black Rook. Alongside the Hellfire Club, Leland later battled the X-Men in New York's Central Park. Selene used her psionic powers to mentally trigger Von Roehm's hereditary lycanthropy and sent him in pursuit of Rachel Summers. When the mutant-hunting Nimrod intervened to attack the X-Men and Hellfire, the X-Men's leader Storm proposed an alliance to battle Nimrod. Von Roehm rejected this proposal and attacked the X-Men. He was then burned to a crisp by Nimrod.
Ad blocker interference detected!
Wikia is a free-to-use site that makes money from advertising. We have a modified experience for viewers using ad blockers

Wikia is not accessible if you've made further modifications. Remove the custom ad blocker rule(s) and the page will load as expected.