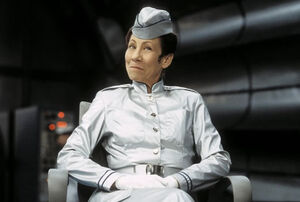 "Bring in ze fembots!"
"Fire ze laser!"
Frau Farbissina is a fictional character from the Austin Powers series of movies. She is the attack and defense specialist (and one time lover) of Dr. Evil and the biological mother of Scott Evil.
She was played by Mindy Sterling.
Biography
To be added (right away)
Films
Frau Farbissina makes her first appearance in the opening scene of Austin Powers: International Man of Mystery, when Dr. Evil kills the henchmen that failed to destroy Austin Powers. She looks in shock to see their bodies being burned.
Next she appears in the same place, 30 years later, after Dr. Evil's criminal organization dethaws him from his sleep, along with Mr. Bigglesworth, as Dr. Evil introduces her as a member of the Salvation Army.
She returns in The Spy Who Shagged Me, at the Space Needle in Seattle, revealing to Dr. Evil she had fallen in love with a woman while he was in space. She also raises her voice to "SEND IN THE CLONE", revealed to be Mini-Me.