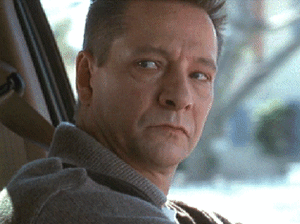 Colonel Frank Fitts is the main antagonist of American Beauty. He bullies his son not just out of accusing him of being gay and well as doing things behind his back, such as taking drugs. The reason why he believed his son Ricky was gay was that in part to Ricky having a bad and rude habit of video-recording the Burnhams, Ricky recorded Lester being nude working out in order to impress Angela. Ricky was technically after Lester's daughter Jane. Ricky then pleads that he intended to film Jane and not Lester (Jane exposed herself naked throughout the window, but Frank scares her off).
At the end of the film, Colonel Frank kills Lester with a SIG-Sauer P226.
Trivia
Frank is similar to Claude's Father. Both accuse their son of being homosexuals, they beat them up and both are closeted homosexual themselves.
Ad blocker interference detected!
Wikia is a free-to-use site that makes money from advertising. We have a modified experience for viewers using ad blockers

Wikia is not accessible if you've made further modifications. Remove the custom ad blocker rule(s) and the page will load as expected.