Ad blocker interference detected!
Wikia is a free-to-use site that makes money from advertising. We have a modified experience for viewers using ad blockers

Wikia is not accessible if you've made further modifications. Remove the custom ad blocker rule(s) and the page will load as expected.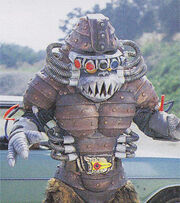 Fire Kong: A gorilla monster whose real name was Saruwatari, a karate savant and Dogma agent. Learning of the Super-1 project while posing as a NASA scientist he kidnaps Dr. Henry to coerce him to work with the
Dogma Kingdom
and use Super-1 as their new weapon of mass destruction. Refusing cooperation he is tasked to destroy the project, assassinating all NASA members relevant to it including Dr. Henry himself. He later travels back to Japan from the USA and establishes a martial arts dojo, forcefully seizing district property by intimidation from his dojo students. His students flee upon his monstrous identity being exposed from a beatdown by Oki Kazuya in human form. His powers include super strength (exhibited in human form in being able to brake a moving car) and a volatile flamethrower attached to his head.
Destroyed by Super-1's Whirlwind Super Kick.
He was later revived as part of the Dogma Revenge Corps and destroyed by Kamen Rider Stronger. His human form is played by the famous Masashi Ishibashi who also plays CRIME's boss Iron Claw from JAKQ, Ego's leader Commander Hedder from Battle Fever J, and General Kar of the Jashinka Empire in Dynaman.