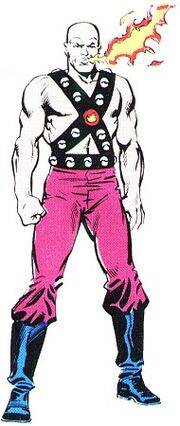 Tomás Ramírez, aka Fire-Eater, is a member of the Circus of Crime who was performing in the circus at Flushing Meadows when the Clown recognized Ben Grimm aka the Thing with his girlfriend, Alicia Masters and friend, Bill Foster. The Clown informed his boss, the Ringmaster that he saw the Thing and he may thwart his plans to use his machine called the psionic eye to hypnotize large crowds. The Thing, Alicia and Bill Foster were sitting in the audience when Ringmaster used his hypno-disk to place everyone in a deep trance but it did not work on Alicia because she was blind. She managed to break free the Thing of his trance and he started to fight members of the Circus of Crime. The Thing got some assistance from Iceman when he also attended the circus with a date. Fire-Breather would spew some fire to melt Iceman's ice slide where he would fall into a net held by the Flying Gambonnos. However, Iceman breaks free and the heroes managed to destroy the psionic eye device and defeat the Circus of Crime.
Ad blocker interference detected!
Wikia is a free-to-use site that makes money from advertising. We have a modified experience for viewers using ad blockers

Wikia is not accessible if you've made further modifications. Remove the custom ad blocker rule(s) and the page will load as expected.