Ad blocker interference detected!
Wikia is a free-to-use site that makes money from advertising. We have a modified experience for viewers using ad blockers

Wikia is not accessible if you've made further modifications. Remove the custom ad blocker rule(s) and the page will load as expected.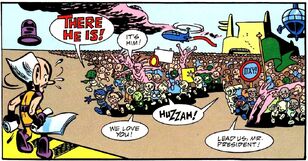 Fifth-Dimensional Imps are a race of godlike alien tricksters found in media concerning the DC multiverse and its may publications across the generations - the most infamous of these beings is by far the long-running Superman nuisance known as
Mister Mxyzptlk
but there are many, many others members of this race and are comparable to Marvel's Celestials or Star Trek's Q Continuum in terms of being an entire society of omnipotent entities.
Beings from the Fifth Dimension can do anything they please so long as it is in the form of a prank, hence they manifest to most other species as troublesome fairies/imps or genies.. some are benevolent and some are malevolent but in general most of them as neutral and can play both hero or villain depending on their mood.
Notable Members
Traits
Fifth-Dimensional Imps are omnipotent entities that can manifest as anything they desire, most decide to manifest as genies, imps or fairy folk in order to play pranks on the lower dimensions : while powerful they must put some limit on themselves when interacting with other realities and despite their mischief they do have strict laws on what they can and can not do.. for example when Qwsp went insane and started to outright murder people the other Imps imprisoned him because he violated a law of the Fifth-Dimension, namely that an Imp can do anything as long as it is a prank.. obviously murder and terrorism went far beyond playful pranks and thus Qwsp was a criminal even to the Imps.. interestingly these laws did not apply if an outsider managed to gain Imp abilities (since Joker massacred billions when he became Emperor Joker).
See Also
Trivia