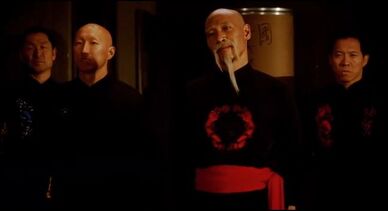 Fiendish Dr. Wu is a villain in the Black Dynamite film. Dr. Wu is an old archenemy of Black Dynamite who was involved in the creation and distribution of the Anacoda Malt. Black Dynamite and his allies confronted Wu in the evil doctor's base Kung Fu Island. Dr. Wu ends up killing four members of the Dynamite's group leaving Black Dynamite and Creamcorn alive. 
Black Dynamite fights Dr. Wu and his henchmen and eventually cuts one of Wu's arms with the evil doctor's arm. After interogatting the doctor, Dynamite sets Dr.Wu on fire and leaves him burned alive.
Dr. Wu makes an appearance in the Black Dynamite animated TV series.
Gallery
Ad blocker interference detected!
Wikia is a free-to-use site that makes money from advertising. We have a modified experience for viewers using ad blockers

Wikia is not accessible if you've made further modifications. Remove the custom ad blocker rule(s) and the page will load as expected.