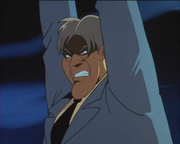 Ferris Dolan
was a criminal and extortionist who worked for
Billy Marin
in
Batman: The Animated Series.
He and Marin's men were about to destroy a construction site but they were interrupted by Batman and Robin. Marin's men escaped but Dolan was still holding on to a steel bar. Batman interrogated Dolan and he gave his boss's name and location and he was later taken into custody. Robin later went to Dolan's apartment and figured out Marin's location.
Ad blocker interference detected!
Wikia is a free-to-use site that makes money from advertising. We have a modified experience for viewers using ad blockers

Wikia is not accessible if you've made further modifications. Remove the custom ad blocker rule(s) and the page will load as expected.