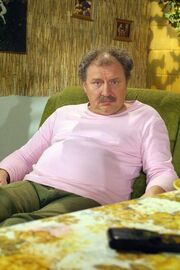 | | | |
| --- | --- | --- |
| " | I declare that I'm going out and I don't know when I'll return! | " |
| | ~ Resentful Ferdek | |
| | | |
| --- | --- | --- |
| " | There are things on this world, which weren't even dreamed by physiologists. | " |
| | ~ Popular phrase used by Ferdek | |
Ferdynand Kiepski, also known as Ferdek, is the main protagonist in the famous Polish comedy series Świat według Kiepskich. His laziness and rabble are almost legend.
Life
Ferdek was born in 1950. He married Halina in 1975 and they have two children Waldek and Mariola. Before 1981 he was selling the water in Świdnicka Street in Wrocław. Now he is unemployed, but  often assumes businesses to earn money, but usually he failed. He live in Wrocław on Ćwiartki 3/4 Street with his wife Halina and daughter Mariola. Before, with them lived Halina's mother Rozalia, (who was in conflict with Ferdek), but she died in 2007 and their son Waldek who went to USA in 2005. He returned in 2011, but now he live with his wife Jolanta, who is hated by his father. Ferdynand's next door neighbours are Marian and Helena Paździoch. Ferdek hates Marian and very often arguing with him, but they can  collaborate to earn a lot of money. They also like drinking vodka on the night. His second neigbour is Arnold Boczek. In elder episodes they were good friends, but now Ferdek is very mean to Arnold, and still insulting him. The third neighbour was old man Borysek. Ferdek liked him, but considered that he is pervert. Very often visits him Edzio, who is the postman. Ferdek don't like and calling him a shrimp and think that he's very stupid, but it isn't truth. His best friends are homeless alcoholic Kazimierz Barura and the CEO of housing association Andrzej Kozłowski. He had very good relationship with his son, but it's getting worse when Waldek returned from USA. Ferdek often arguing with his daughter Mariola, but he very loves her.
Character
Ferdek is very lazy, but clever. In elder episodes, he is very cheerful and enthusiastic, but later becomes peevish, truculent, unfriendly, and quarrelsome. He is also very ill-tempered, cantankerous, vindictive, impatient, spiteful, bearish, touchy, gruff, furious, and quite arrogant. In his opinion the most important value in honor.
Main classes
Drinking beer Mocny Full
Lying on armchair
Watching TV
Arguing with Marian Paździoch
Arguing with Rozalia
Insulting Arnold Boczek
Drinking vodka
Stealing Rozalia's pension
Coming up with new ways to earn money.
Family
Halina Kiepska - wife
Waldemar Kiepski - son
Mariola Kiepska - daughter
Rozalia Małolepsza - mother-in-law (died in 2007)
Jolanta Pupcia-Kiepska - daughter-in-law
Roman Kiepski - father (died, never appeared on the show)
Stanisław Kiepski - brother
Władysław Kiepski - grandfather (died, never appeared on the show)
Mother (never appeared on the show, mentioned only in 215 episode)
Władysław Kiepski - uncle
Stanisław Kiepski - uncle (died in 2007, never appeared in the show)
Ziemowit Kiepski - nephew
Genowefa Kiepska - aunt
Cousin from Mongolia, Rychu, Zdzichu, aunt Lutka, Jaś, uncle Leoś - other relatives
List of businesses
1st episode : Sex phone
2nd episode : The invention pouring water
7th episode : Visionary services and treatment of women by bioelectric current
15th episode : Kafarek Agency. Dealt with abusing deed and word masters
17th episode : Opening own exclusive private school
20th episode : Illegal wrestrling club under the name Concrete Circle
22nd episode : Striptease
23rd episode : Own radio 123RFN
24th episode : Own footbal club
27th episode : The dictatorship of fashion under the pseudonym Jean Paul Kiepski
32nd episode : Pizzeria
52nd episode : Travel agency
59th episode : Rejuvenation of women using a snake
63rd episode : Shows attract metals
66th episode : Supermarket Hiperferdex
67th episode : rejuvenation women by salt
71st episode : modern agriculture - growing the cabbage in the room
76th episode : Senior club
78th episode : Psychiatric clinic
81st episode : Detective agency
83rd episode : The production of perfumes and creams
92nd episode : Models agency
104th episode :; listen to people for money
106th episode : The discovery and production of vitamin G
109th episode : Avenue of stars
110th episode : Money laundering (literally)
114th episode : The mascot of the Polish National Team
120th episode : Machine to generate electricity
122nd episode : Writing romantic novels
126th episode : The invention of the present invention to do everything
132nd episode : Shooting the movie
136th episode : The advertisement of Wrocław
137th episode : Consoling people for money
141st episode : The assumption temp agency
151st episode : Making money on the strength of his Halina
163th episode : Shoothing Tv series
178th episode : Create a collection of pants
184th episode : School about the culture of drinking alcohol
186th episode : Buying old cheap things and selling it for Paździoch too high a price
217th episode : Professional critic
219th episode : Production of biofuel from beets
221st episode : Scenarist
241st episode : Barber
246 th episode : Singer
261th episode : House of culture
331th episode : Jazz club
397th episode : Shop Eurokoko
Gallery
Ad blocker interference detected!
Wikia is a free-to-use site that makes money from advertising. We have a modified experience for viewers using ad blockers

Wikia is not accessible if you've made further modifications. Remove the custom ad blocker rule(s) and the page will load as expected.