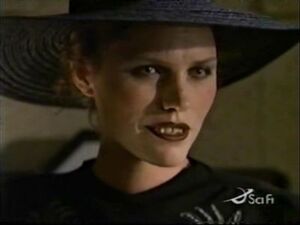 Felicity
was a minor villainess from the two-part TV film, 
House of Frankenstein 1997.
She was played by Jorja Fox.
Felicity was the best friend of Grace Dawkins, who became a werewolf in Part 1 of the film. She later encountered head vampire Crispian Grimes, aka "The Night Raptor," and was attacked by him at her home. Felicity became a vampiress, dressing entirely in black and brandishing her pale complexion. Felicity served as Crispian's evil henchwoman, and was responsible for bringing Grace to him in Part 2, due to Crispian's affinity for Grace's lycanthropic side. Crispian and Felicity go after Detective Vernon Coyle and Dr. Shauna Kendall at a carnival, where Felicity engaged in a fight with Kendall. The scuffle ended with Felicity killed by Kendall with a wooden stake.
Gallery