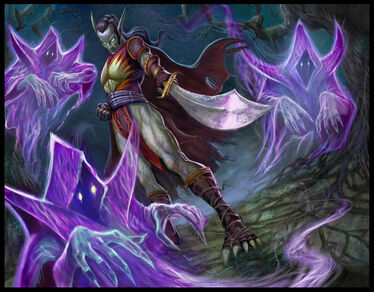 Felendren the Banished
is a Sunstrider Isle outcast in the Warcraft universe.
He was a blood elf that resided in the Falthrion Academy. However, he failed to control his magic addiction and became a wretched and a shell of his former self. He was banished for ignoring the warnings of the Academy teachers. Felendren later takes control of Falthrien Academy and has Arcane wraiths and elementals as his minions. However, an adventurer killed all of his minions and confronted the elf in his tower. The adventurer killed Felendren and his head was presented to the other blood elves.
Ad blocker interference detected!
Wikia is a free-to-use site that makes money from advertising. We have a modified experience for viewers using ad blockers

Wikia is not accessible if you've made further modifications. Remove the custom ad blocker rule(s) and the page will load as expected.