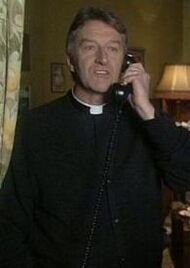 Father Dick Byrne
is the main antagonist of the Irish comedy TV show 
Father Ted
.
He was portrayed by Maurice O'Donoghue.
Biography
Father Dick Byrne appeared in 5 episodes of the show, in "Competition Time", "Song For Europe", "Cigarettes and Alcohol and Rollerblading", "Escape from Victory" and "Kicking Bishop Brennan up the Arse". Dick is Ted's equivalent on nearby Rugged Island, and his bitter rival.
Ted's nemesis, Dick often manages to outwit Ted as part of their ongoing feud. It is unknown how the feud started, but Dougal once mentioned a "Scrabble fiasco" (where Father Byrne managed to get all of his words to spell "Useless priest, can't say Mass"). This feud has led to various ill-judged escapades, usually after Dick has telephoned Ted to tease him for some inadequacy or taunt him for some fault. These include fooling him on the phone into thinking that Dick sincerely believed Ted's Eurovision song would be good, and winning the annual "All-Priests Five-a-Side Over-75's Indoor Football Challenge Match". However, there are instances where Ted has got the better of Dick. Ted mentions an occasion where Dick lost a bet against him and therefore had to say "bollocks" very loudly in front of the then-Irish President Mary Robinson. Ted also beat Dick in the Eurosong competition, despite Dick's song, 'The Miracle Is Mine', being given a standing ovation and being far superior to the Craggy Island effort. Ted states that he "really hates Father Dick Byrne!"
Although loosing the football mach due to father teds posession of fake rubber hands father dick byrne has the last laugh and makes ted kick bishop brennan up the arse 
In the 2010 Channel 4 retrospective 'Small, Far Away - The World of Father Ted', Graham Linehan and Arthur Matthews said, perhaps seriously, that Maurice O'Donoghue and the rest of the Rugged Island cast were each their second choice to play the main characters on the show.