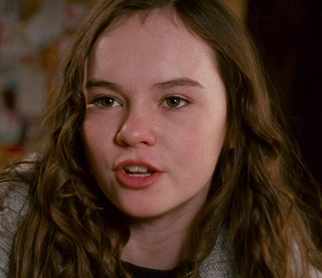 "
I HATE THIS FAMILY!
"
~  Farren
Farren is a leading female character and anti-heroine in The Spy Next Door. She loves her little sister, Nora, but throughout the movie she's a vile, bratty, selfish, abusive and trend-obsessed teenage girl who bullies her mother and younger brother to get what she wants and tries to get rid of Bob Ho, the hero. Plus, she has a tendency to burst forth at her mother if she doesn't get her way. Farren helps save the day, but at the end of the film she never answers for her wrongdoings.
Trivia
Farren is played by Madeline Carroll.
Her personality is reminiscent of Veruca Salt and also many insincere and uncompromising teenage female protagonists like Hannah Montana and Tessa Yeager.
Farren has similarities to many other spoiled brats from films, terrorizing and harassing other people, especially her family, without remorse.
Gallery