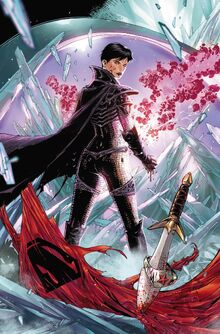 Faora Hu-Ul was a Phantom Zone villain introduced in Action Comics #471. She was a beautiful Kryptonian woman whose unexplained hatred for men led her to torture and kill 23 men at a secret concentration camp in her home. Faora served under Major Zod during the war against Black Zero.
In Other Media
Film
For more information, see Faora-Ul (DC Extended Universe)
Antje Traue portrays Faora Hu-Ul in Man of Steel as the secondary antagonist. Faora was born on the planet Krypton where she was genetically engineered into the Kryptonian Warrior Guild as one of their soldiers and a leader as well. She was a fiercely dedicated soldier, only second to that of Zod himself, and would go one to become Zod's most trusted ally and would be refered to as the Tigress of Zod.
Animation
Faora appears in a Looney Tunes episode that parodies Superman. She is depicted as the long-suffering girlfriend to Genral Zod (played by Daffy Duck). Superman (played by Bugs Bunny) manages to turn her against Zod by pointing out how bad a boyfriend he is.
Gallery