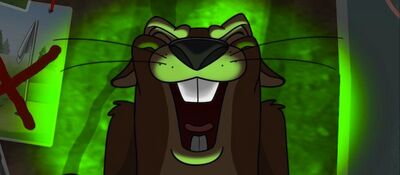 The Fairway Gopher, also known simply as the Gopher, is the main antagonist of the Big Fish App Game "Fairway".
Development
The Gopher is related to golf, as it sometimes steals the golfer's ball. Big Fish decided to add the Gopher as the villain, due to the fact this solitaire game was a combination of solitaire and golf.
Tricks
The Gopher will appear during random levels and mess up your cards. He will either shuffle them to different spots or remover a certain number(usually 3). There are also the Gopher Wild Card, which will cause the player to get an instant game over and restart the course.
Promotions
The Gopher was also a part of Big Fish's promotions to also let the lucky winner of a contest win a free iPad.
Gallery