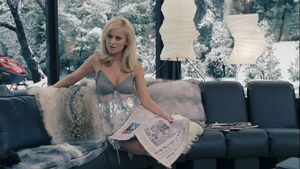 Fairchild Van Waldenberg is one of the main villains of Blade of Glory, along with her twin brother/husband Stranz Van Waldenberg.
She is played by actress/comedian Amy Poehler who happens to be actor Will Arnett's ex-wife.
She and Stranz are becoming the ice skaters while they developing their own relationships to each other. They hired their sister Katie Van Waldenberg to spies on the main heroes, but Katie and Jimmy are falling with love with each others, much to Stranz and Fairchild's dismay.