| | | |
| --- | --- | --- |
| " | Two men skating together? And in our division, no less! Why, Stranz? Why is God singling us out for the greatest suffering the world has ever known? | " |
| | ~ Fairchild's reaction to the news of Chazz and Jimmy being a male-male figure skaters pair, whom she sees as a threat | |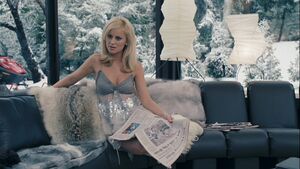 Fairchild Van Waldenberg is one of the main villains of Blade of Glory, along with her twin brother/husband Stranz Van Waldenberg.
She is played by actress/comedian Amy Poehler who happens to be actor Will Arnett's ex-wife.
She and Stranz are becoming the ice skaters while they developing their own relationships to each other. They hired their sister Katie Van Waldenberg to spies on the main heroes, but Katie and Jimmy are falling with love with each others, much to Stranz and Fairchild's dismay.
Quotes
| | | |
| --- | --- | --- |
| " | "Katie, can you just take this camcorder, please? I don't know how to turn it on! Thank you. | " |
| | ~ Fairchild whining to her sister Katie, asking her to spy on Chazz and Jimmy the new skaters | |
| | | |
| --- | --- | --- |
| " | What's that, mother? | " |
| | ~ Fairchild pushing Katie to spy on her rivals by reminding her of their late mother and Katie being the reason she's dead | |
| | | |
| --- | --- | --- |
| " | You and father died in a car crash while taking Katie to her little ice skating practice? | " |
| | ~ Fairchild mocking Katie in reminder of her being responsible for their parent's deaths | |
| | | |
| --- | --- | --- |
| " | Papa? Papa, what are you? Are you crying? Still in heaven? You're still DEAD? | " |
| | ~ Fairchild putting pressure on Katie by asking their late father if he's crying in heaven, should Katie not follow through with their plans | |
| | | |
| --- | --- | --- |
| " | Yeah, and the media loves freaks. | " |
| | ~ Fairchild agreeing with her brother Stanz saying the male-male pair Chazz and Jimmy are "a couple of freaks" | |
| | | |
| --- | --- | --- |
| " | You know I'm not a violent person. But I would like to hold them down and skate over their throats. | " |
| | ~ Fairchild describing to her brother Stranz how she'd like to handle her new rivals in the skating competition | |
| | | |
| --- | --- | --- |
| " | Who's talking about love? We just want you to have sex with him. | " |
| | ~ Fairchild pressuring her sister Katie to sleep with Chazz in order to destroy the bonds between Jimmy and Chazz | |
| | | |
| --- | --- | --- |
| " | McElroy's heart is a beautiful apple that is in your hands -- and now you need to bite it! | " |
| | ~ Fairchild asking Katie to break her love interest Jimmy's heart | |
| | | |
| --- | --- | --- |
| " | You Idiot! | " |
| | ~ Fairchild last words to Stranz outing her to the police about her breaking Chazz's ankle to win the competition | |
| | | |
| --- | --- | --- |
| " | I wanna see his head go through the boards one more time! Haha! | " |
| | ~ Fairchild to Stranz asking him to rewind the video to watch Jimmy in pain | |
Trivia