| | | |
| --- | --- | --- |
| " | At last, my vengeance is at hand! At last, the son of Odin dies! | " |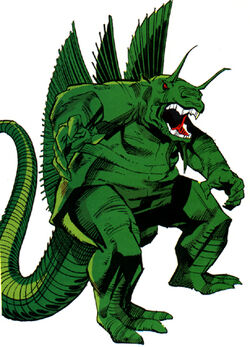 Fafnir is the a villain from the Marvel universe and is based on the mythical creature of the same name.
History
Fafnir was once the King of Nastrond, an extradimensional realm on the continent of Asgard. As Fafnir and his people were thoroughly evil, the ruler of Asgard, Odin, destroyed the kingdom and all of Fafnir's subjects. Fafnir himself was left to die in the ruined wasteland that was his former kingdom. Fafnir, however, found a pool with magical properties, and while drinking from the pool sustained Fafnir, it also transformed him into a massive dragon. Fafnir now possessed strength on par with the Thunder God Thor; a devastating flame breath; the ability to cast illusions and control weak-minded individuals. Fafnir was now almost invulnerable, as his dragon hide was so dense that he barely felt blows from Thor's hammer Mjolnir.
Despite these tremendous abilities, Fafnir was never able to defeat Thor. On the first occasion that Fafnir battled Thor, he was sent hurtling into a deep chasm created by a blow from the Thunder God. On the second occasion, Loki freed and assisted Fafnir against Thor but both were held at bay by the combined might of Mjolnir and the magical Nornstones until the intervention of Odin. On the final occasion, Fafnir was killed by Thor when he used Mjolnir to drive an enchanted spear into Fafnir's heart.
Trivia