✔



Click To Help Dr. Wily!

Dr. Wily has declared that this article is still under construction.
Please don't delete or edit this article yet, it may contrast with the original author's edits.
After I finish this article, the world will be mine! MWAHAHAHAHA!
"
If a man dedicates his life to good deeds and the welfare of others, he will die unthanked and unremembered. If he exercises his genius bringing misery and death to billions, his name will echo down through the millennia for a hundred lifetimes. Infamy is always more preferable to ignominy.
"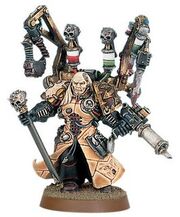 Fabius Bile is a major antagonist in Warhammer 40,000. He is a Chaos Space Marine and former Lieutenant-Commander of the Emperor's Children Traitor Legion who specializes in horrific genetic engineering. 
History
Pre-Heresy
Heresy-era
Post-Heresy