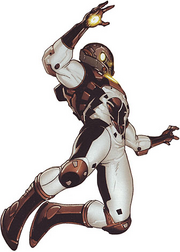 Ezekiel Stane
is
Obadiah Stane
's replacement and his son. As can be expected, he would follow in his father's footsteps as one of Tony Stark's most dangerous and prominent enemies.
Ezekiel is the megalomaniacal son of the late Obadiah Stane, also known as Iron Monger. He shares similarities with Tony Stark/Iron Man, but he is younger, more intelligent and much more ruthless. He is a sociopathic futurist, an opportunistic super-villain who exploits the modern corporate run, greed-driven society to further his own ends. Ezekiel seeks revenge against Tony Stark for his father's death.
Appearance in other media
Ezekiel appears in Iron Man: Rise of Technovore as the true main antagonist.
Powers / Abilities
Enhanced Abilities: Ezekiel Stane has super human strength agility and endurance.
Body Armour: Ezekiel Stane wears a suit of armour that provides a high degree of protection from physical and energy attacks.
Repulsor Rays: Ezekiel Stane's excess body energy allows him to produce powerful energy blasts.
Flight: Ezekiel Stane is able to fly.
Healing Factor: Ezekiel Stane has a rapid metabolism, which is responsible for his greatly-accelerated healing, as well extended health & longevity.