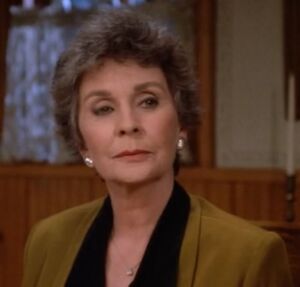 Eudora McVeigh is a villainess from Murder, She Wrote. She appeared in "Mirror, Mirror on the Wall", the two part 5th season finale of the show.
She was portrayed by the late Jean Simmons, who famously appeared as Norah Satie in an episode of Star Trek: The Next Generation.
Eudora McVeigh (like Jessica Fletcher) is a mystery novelist, but in Part 1, she was turned down and let go in favor Jessica; being told that her work had been suffering since her marriage to Hank Shipton. Furious, Eudora became villainous and planned to steal Jessica's spotlight. She visited Jessica at her home with a basket of apples, and while conversing after dinner, the evil Eudora drugged Jessica's coffee. Later that night, Eudora snuck into Jessica's room and stole her manuscript for her latest novel, with the plan to make it her own. Part 1 ended with the revelation that one of the apples in Eudora's basket was poisoned, as Seth Hazlitt took a bite and collapsed.
Eudora also planned to beat Jessica to the punch as far as solving the murder of a PI, but in Part 2, she ended up being accused of the murder after Jessica learned about the poisoned apple, which left Seth hospitalized. Eudora admitted to drugging Jessica and stealing the novel, but not to the murder, which was turned out to be committed by Eudora's stepson, Bobby, in an attempt to frame Eudora. In the end, Eudora apologizes to Jessica for her actions, and stated that her marriage to Hank is over and she'll be moving in with her sister.
Trivia
The episode had several references to Snow White, with Eudora (despite being redeemed in the end) representing the Evil Queen.