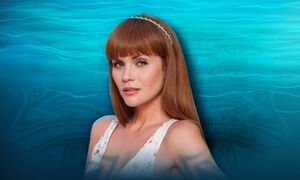 Esthercita (real name: Esther Salazar Mata), also known as Esther "Esthercita" Salazar Arrivas de la Torre and Ada de Contreras, is the main villainess in the Mexican telenovela "La Tempestad" (in international translation as "The Tempest", but dubbed as "The Storm" by Univision) which is loosely based on the 2005 Colombian telenovela "La Tormenta" ("The Storm" in Spanish).
She was portrayed by Laura Carmine.
She's in love with Damián but Damián loves Marina her main enemy because she feels hatred and jealousy towards her. She will do everything to make Marina not to be with Damián . Esthercita is Fulgencio and Delfina's daughter, Ursula's cousin, Damian's ex-wife, Lazaro's biological half-sister, Baby Michel's biological mother, Baby Fulgencio's biological aunt, Lucia's sister-in-law, Mayuya's dedicated friend/accomplice, later gets amnesia and is called Ada. Responsible for the death of Ernesto. Commits suicide by jumping off a building.
Gallery