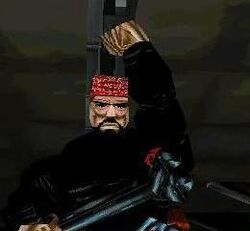 Eros is a Spainard thug that happens to be a fanatic member of a dangerous cult known as Fiamma Nera and a minor villain in Tomb Raider II.
He was one of the thugs that are part of the Fiamma Nera cult and attacked the archeologist Lara Croft. He hit Lara over the head on a seaplane while her attention was distracted by Marco Bartoli. When the seaplane landed at an Offshore Rig, Lara was put in a storage area.
It is possible that Eros was killed by Lara during her escape from the rig since all of the rig men with clubs that looked the same as him in clothing and they are in league with the Fiamma Nera cult.
Trivia
Ad blocker interference detected!
Wikia is a free-to-use site that makes money from advertising. We have a modified experience for viewers using ad blockers

Wikia is not accessible if you've made further modifications. Remove the custom ad blocker rule(s) and the page will load as expected.