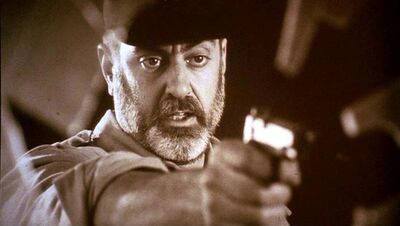 Eric Stoller
is the main antagonist of the 1990 movie
Fire Birds
. He is portrayed by Bert Rhine. In the movie, he is a mercenary helicopter pilot and a terrorist who was hired by a drug cartel. His chopper is the Scorpion Attack Helicopter. In one attack, he becomes arch-enemies with Jake Preston, a lone survivor of the attack whose friend was killed by Stoller. Near the end, after Preston completes his training, he, along with his girlfriend Guthrie and his mentor Little track down Stoller while the other forces attack the cartel. In the battle, the pair of aircraft are destroyed, but Little is shot down and wounded. While Preston engages in combat against Stoller, Preston manages to trick Stoller and ultimately shoot him down, avenging the death of his friend.
Ad blocker interference detected!
Wikia is a free-to-use site that makes money from advertising. We have a modified experience for viewers using ad blockers

Wikia is not accessible if you've made further modifications. Remove the custom ad blocker rule(s) and the page will load as expected.