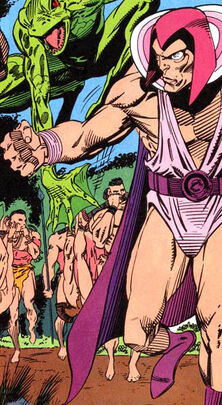 Equilibrius was one of the first Savage Land natives to be artificially mutated by Magneto. As one of the Savage Land Mutates, he served Magneto for some time, but never returned from Chile after being imprisoned there with his teammates by the Avengers. His current fate remains unrevealed.
Powers
Equilibrius could psionically influence his opponents to look into his eyes. He could also cause any who looked into his eyes to experience crippling vertigo.
Ad blocker interference detected!
Wikia is a free-to-use site that makes money from advertising. We have a modified experience for viewers using ad blockers

Wikia is not accessible if you've made further modifications. Remove the custom ad blocker rule(s) and the page will load as expected.