Envy (Fullmetal Alchemist)
Talk

6
26,731pages on
this wiki
Evil-doer

Full Name

Envy

Alias

Envy the Jealous
Cobbled-up Envy

Origin

Occupation

Field agent
Instigator

Powers / Skills

Near Immortality
Shape Shifting
Super Strength
Absorbing Philosopher Stone fragments and Manikin Soldiers

Hobby

Psychological torture and causing chaos

Goals

Killing every single human he comes across

Type of Villain

Manipulator
Created Human

Envy is a major villain of the Fullmetal Alchemist series. Envy is is a prominent member of the Seven Homunculi whose power to shape-shift makes him an ideal spy to carry out their agenda.

Envy is the fourth Homunculus created by Father, the series' main villain. He was created when Father separated his envy and jealousy from his body and incarnated it into a Philosopher's Stone, which he used as Envy's core.
Appearance
Envy looks like a rather androgynous youth in his late teens, with long dark hair and violet eyes, dressed in the black garments common among the homunculi. (In the 2003 anime series, he has dark green hair.) He has the homunculi's red lines across his body, including a red triangle on the headband that covers his forehead, and his Ouroboros mark his located on his left thigh.
However, because of his physical strength, Envy conceals his actual form: a gigantic, green reptilian monster with eight limbs, much like the Basilisk, and human-like features like his teeth and his nose. He retains the long black hair and the red triangle on the forehead of his human form, he has two pairs of human arms in the front part of his body and two human legs crouched like that of a lizard on the back part, a spiked back, a long tail and an extensible tongue. His upper body is covered with the bald, tormented faces (and some upper body parts) of those whose souls were used to create his Philosopher's Stone.
When deprived of all his power, Envy reverts to his original, powerless form. Now more of a leech-like lizard, Envy is extremely weak unless he can reach a Philosopher's Stone to regain his full form.
Personality
Envy is the most arrogant, vicious, and grudge-full sadist among the homunculi. He heavily despises humans, praising it out loud as he openly mocks humans and loses his temper whenever bested by one. Envy enjoys to torment his victims by playing with their feelings and ties to one another, having caused numerous bloodbaths by turning people against each other and watching with pleasure. However, never even realizing it himself, Envy's hatred and scorn towards humans stems from his jealousy of the inner strength they wield. Deep down in his heart, he was jealous that humans are able to endure hardships.
Envy also has a hate-hate relationship with Edward Elric, even more so in the 2003 anime storyline. Regardless, both versions have Envy constantly making fun of Ed's size and calling him a "Pipsqueak".
Powers and Abilities
Envy has the power to shape-shift into anything or anyone, should it be real people or human aspects that he made up. It has also been shown that he can shift into animals, appearing as a black dog when he was sent to retrieve Gluttony. He can apparently shape-shift to anything that doesn't exceed the size and weight of his true form, which considering said true form's size means a lot. This power comes in handy to go anywhere unnoticed or to travel fast. Envy can partially shape-shift as well, and often uses this ability in battle, to transform his arms into ropes, blades or even a snake, which he can then manipulate like real ones. Envy also uses this power to elongate his limbs like tentacles to strike his foes or seize them, proceeding to squeeze them slowly or to toss them anywhere. (He has proven able to devour bodies through his "tentacles" though the full extent of this ability remains unclear.)
Even under his humanoid aspect, Envy's weight is that of his true form, which grants him enormous strength and durability. In spite of his weight, he is very fast, swift and nimble, no matter what form he assumes and as any other homunculi, he can regenerate any wound even lethal ones, as long as there is enough energy left in his Philosopher's Stone.
Under his true form, Envy can use his strength to its maximum and becomes even more dangerous, being able to crush rock under his limbs, tail or jaws. He is also able to manipulate the human remains that cover his body and make them appear and disappear, and to elongate his tongue to use it like a harpoon or a binding rope.
Under his original form, Envy's only power left is his ability to fuse his limbs with organic matter and flesh, enabling him to take control of the body he infests.
Role among the Seven Homunculi
Envy's shape-shifting powers makes him the perfect spy, as he uses human and animal disguises to go unnoticed. He regularly uses his human disguises to remain in the Central Headquarters, keeping an eye on people to get information and ready to take command from Wrath. He also uses his powers to impersonate people and manipulate events, or to carry assassination missions while framing people that the homunculi want to discredit.
Envy uses his power to transform into someone the one he must kill cares for, taking advantage of his victims' inability to harm their loved one, while reveling in their despair.
Envy mostly serves as a field agent under Lust's command, frequently being accompanied by Gluttony who backs him up. It must be noted that he gets along with Lust quite well, being very angered upon learning her death. One must note that Lust being his superior in the hierarchy doesn't prevent him from insulting her when criticised.
Storyline
After Lust ended up killing their Father Cornello, Envy was called in to impersonate the false prophet to orchestrated the riots in the city of Lior as part of Father's design for the Day of Reckoning. Envy later meets Edward Elric for the first time when he and his brother Alphonse Elric sneaked into the Fifth Laboratory to discover more of the stone's creations. Killing the younger Slicer Brother, Envy provokes Edward before knocking him out and dragging on of the laboratory while Lust blows it up to leave no evidence.
Following the events in the Fifth Laboratory, Lt Colonel Maes Hughes, a friend of the Elric brothers, discovers the secret goal of the homunculi, prompting Envy attempt to kill him in the guise of Second Lieutenant Maria Ross. Though Hughes saw though him as he was about to call his friend Colonel Roy Mustang, Envy assumes the form of the Lt. Colonel's wife Gracia to shoot him while he was in shock. When Mustang begins to investigate Hughes's murder, Envy pins it on Maria Ross. But Envy did not realized then was that Mustang faked Ross's death and had her leave the country in hopes to lure out Hughes's murderer.
By the time the Homunculi learned the truth that the surviving Fifth Lab guard Barry the Chopper aided Mustang's group, Envy voiced killing Mustang then and there when he managed to kill Lust before King Bradley, also known as Wrath, denies him revenge. When Envy later attempts to save Gluttony when he was captured, Envy finds himself fighting Ling Yao before they and Edward got sucked into the dimension within Gluttony. There, telling the humans there is no escape for any of them, Envy gleefully reveals that he caused the Ishvalan War by assuming the form of a pacifist soldier to kill an Ishvalan child. When Edward punched him in response due to the war's effect on Scar and Winry, Envy decides to kill him and Ling. However, seeing his Philosopher's Stone, Edward convinces Envy to accept a truce until they return to their world and they find themselves in Father's throne room. With the Ling made into the vessel of second Greed, Envy's actions are reveled to Scar with a fight ensuing before he captures an escaping Alphonse.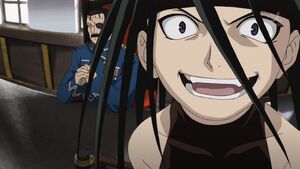 Posing as a soldier, Envy bring the Elrics to Bradley so the brothers would know the consequences if they act out of line and expose the conspiracy. Resuming his work as a field agent, Envy releases Solf J. Kimblee with instructions to kill Scar and retrieve Tim Marcoh who was freed by the scarred man. However, Alphonse, working with Scar, May Chang, and two of Kimblee's human chimeras lure Envy into a trap. However, Envy assumes his true form and grabs Marcoh while telling him the fate of his fellow researchers being made into a Philosopher. In response, Marcoh manages to destroy Envy's Philosopher's Stone, reducing him to his original form and sealed in a glass bottle so May can take the Homunculus to Xing. However, the Homunculus manages to convince her to head for Central City instead, hoping to get another Philosopher's Stone to replace the one he lost.
As the Day of Reckoning begins, May and Envy sneak into the underground tunnels of Central Military Headquarters that are swarmed by Mannequin Soldiers, artificial humans that are driven by a need to feed. Assimilating the surrounding Mannequin Soldiers after being eaten by one, Envy regains his full power and attempts to kill May before running into Edward, Edward Elric, Scar, the chimeras, Mustang and his subordinate Lt Riza Hawkeye. Revealing him as Hughes' murderer, Envy finds himself outmatched and overpowered a revenge-driven Mustang as he is forced to flee into a maze. However, thanks to Hawkeye, Mustang finds Envy and burns him down until only his parasitic form remains.
At the last second, Edward intervenes as he and Hawkeye manage to talk Mustang out of his thirst for revenge, much to Envy's disgust as he attempts to remind them of all the horrible things they have done to each other to have them kill each other. But when they refuse, a confused Envy learns from Edward that he is secretly jealousy of mankind's inner strength. Disgusted with the realization and that the one he despises the most has discovered his biggest shame, Envy commits suicide by extracting what remained of Philospher's Stone from his body and shatters it. He then vanish into dust with tears in his eyes, wishing good bye and good luck to Edward.
In the 2003 anime
In the 2003 anime series, Envy is the first Homunculus created. As in this (radically different) storyline homunculi are created after a human transmutation, which only produce and alchemic "clone" of the deceased one, he was created 400 years before the beginning of the series by Dante (this storyline's main villain) and Hohenheim, in an effort to revive their late son who died of mercury poisoning.
Envy holds a staunch grudge against Hohenheim (who abandoned him and Dante after realising that their son would never truly return) for not recognizing him as a son, and is extremely jealous of the protagonists of the series, Edward and Alphonse Elric the sons of Hohenheim. (For receiving the parental love that he never got.) His hatred is so strong that he never assumes his true form (which looks a lot like Hohenheim and the Elrics) pretending to have forgotten it. He harbours a fierce hatred for humans, wanting to kill as many of them as possible, and would stop at nothing to kill his "father" and "brothers."
Envy remains by Dante's side all along, carrying out her dirty work for the sole pleasure of seeing humans die and suffer. After his final battle against Edward Elric in which he reveals his true face to distract Edward and severely wounds him, he transforms into a huge snake-like dragon and goes beyond the Gate of Truth into the real world, where Hohenheim has been banished.
In the movie Conquerors of Shamballa, it is revealed that Alchemy doesn't work in the real world, preventing Envy from shape-shifting and trapping him under the dragon form he assumed. He is eventually captured and sacrificed alongside Hohenheim by the movie's antagonists to open a Gate between the real world and the Fullmetal Alchemistworld.
Trivia