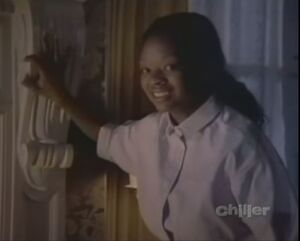 Emily was the villainess in "Big Daddy," the 19th episode of the short-lived series, Werewolf. She was the emotionally abused daughter of politician Will "Big Daddy" Fraser; a result of an illicit affair. Big Daddy was dying of cancer, and knowing that Eric Cord is a werewolf, he invited him to his home with the plan to use his werewolf blood to keep him alive. Knowing this, Emily took the blood for herself during her father's procedures, unbeknownst to both him and Eric. At the stroke of midnight and with the full moon at its highest peak, Big Daddy was expecting to undergo his first transformation, but Emily's true agenda was revealed when a bloody pentagram appeared on her right hand. With a crazed and sinister gleam, the evil Emily turned into a werewolf and killed Big Daddy's guard right before she set her sights on the object of her revenge: Big Daddy himself. After killing him, Werewolf Emily closed in on Eric, who later shoots and kills her.
Emily was played by Jonelle Allen, who also appeared in the 1985 film, The Midnight Hour, as the evil vampire/witch Lucinda Cavender.
Ad blocker interference detected!
Wikia is a free-to-use site that makes money from advertising. We have a modified experience for viewers using ad blockers

Wikia is not accessible if you've made further modifications. Remove the custom ad blocker rule(s) and the page will load as expected.