| | | |
| --- | --- | --- |
| " | Our intention is to demand a ransom from the North Atlantic Treaty powers of 280 million dollars. A hundred million pounds. | " |
| | ~ Largo's plan. | |
| | | |
| --- | --- | --- |
| " | You let him get the better of you! | " |
| | ~ Largo to one of his henchmen Quist. | |
Emilio Largo is the main antagonist of the James Bond novel and film Thunderball. He was played by Adolfo Celi, whose voice was dubbed over by Robert Rietty.
Film biography
In the 1965 film adaptation, Largo is portrayed as a grey-haired man in his late 40s who wears an eye patch and works for the criminal organization SPECTRE. In the film, Largo is "NO 2" and head of their current extortion operation.
Largo's scheme in Thunderball, at the time, was unique and ingenious. It involved the theft of two nuclear weapons from NATO at sea, which he would then use to hold the world hostage by threatening to detonate the two devices in England of this United States unless they paid the ransom of £100 million British pounds. This scheme has been used countless times since Thunderball and is even a joke in the Austin Powers series of movies.
In the movie, his death is less gruesome than the novel, but more dramatic. As Bond and Largo do battle on the bridge of the Disco Volante, the spy is knocked to the floor by a sudden collision. In the confusion Largo snatches a nearby pistol and holds 007 at gunpoint. As he prepares to pull the trigger Domino shoots him in the back with a harpoon. He turns and collapses dead on the ship's wheel, jamming the controls. Unable to move the body and with seconds to spare, Bond, Domino and Kutze leap overboard as the Disco Volante runs aground and explodes violently.
Never Say Never Again
In the unofficial movie Never Say Never Again, which is actually a remake of Thunderball, Largo is named Maximillian instead of Emilio and is killed by Domino while preparing the bomb in the water instead of being killed on the boat. Maximillian is portrayed by Klaus Maria Brandauer.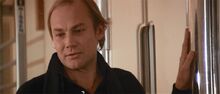 Gallery
Videos
Ad blocker interference detected!
Wikia is a free-to-use site that makes money from advertising. We have a modified experience for viewers using ad blockers

Wikia is not accessible if you've made further modifications. Remove the custom ad blocker rule(s) and the page will load as expected.