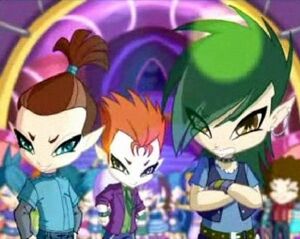 The Elves appear in Pop Pixie, a spin-off series based on Winx Club. They are not the same kind of Elves as Professor Palladium in Winx Club and live in Pixieville and are very bad. They love a life of luxury without working (unless it is others who are doing the work). Elves are independent and live together in a house, without family, real jobs and rules.
Elves use their dark magic for small negative spells. Their witchcraft is used to create chaos, to deceive, cheat and bully.
They also use spells and potions causing havoc in different situations and use their magic to make dangerous monsters appear.
Their clothing style looks like metal, cyber, biker and gothic.
They are different from the Elves among whom Professor Palladium is a representant.
List of Pop Pixie Elves
Rex on his chopperAdded by Dreammaster13666*Rex is an arrogant and haughty Elf who has a big opinion of himself. He admires Maxine and thinks that the rest of the world is not worthy of his attention. Compared to the others, Rex has a more mature and criminal side to his character which often frightens even his companions. This aspect of his character particularly appeals to Maxine, his fiancée who is very ambitious. The Animal who accompanies Rex is Cleopatra the tiger .
Gallery