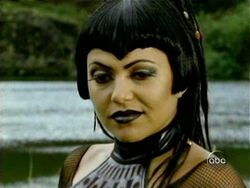 Elsa is the secondary antagonist-turned-anti-hero of Power Rangers: Dino Thunder. She is Mesogog's minion who helps him to bring the dinosaurs back from extinction. She is also known as Principal Randall the principal of the Ranger's school.
In the season finale, she is betrayed by Mesogog and is stripped of her powers. She later helps Rangers defeat Zeltrax and Mesogog.
Ad blocker interference detected!
Wikia is a free-to-use site that makes money from advertising. We have a modified experience for viewers using ad blockers

Wikia is not accessible if you've made further modifications. Remove the custom ad blocker rule(s) and the page will load as expected.