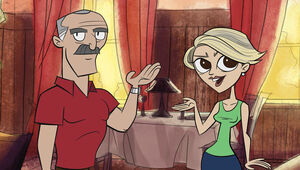 Elise's Parents except that they seem to be very critical of her husband, Chris, and seem to deeply disapprove of him. They are also critical of their daughter, Elise.
History
In the episode Elise's Parents, they planned to move close to Elise and open a cupcake shop, but changed their minds after Dan told the police they were part of the Mafia. In The Family Thanksgiving, they attempted to trick Dan by being outwardly nice in order to get ahold of his Deviled egg recipe. It is said by Dan Mandel, the show's creator, that Don and Elise Sr. don't really care about Elise, dislike Chris a lot and hardly even know Ben exists.
Appearance
Don is a man with grey thinning hair, a mustache, along with a red polo t-shirt, brown pants, and black shoes. He is also seen wearing a watch on his right hand. Elise Sr. has blond hair, green shirt, and blue jeans. In Family cruise she has robot armor and weapons.