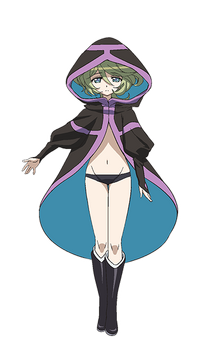 Elfnine (エルフナイン) is one of the new characters that appears in Senki Zesshō Symphogear GX.
Etymology
Elf (エルフ)-a supernatural creature of folk tales, typically represented as a small, elusive figure in human form with pointed ears, magical powers, and a capricious nature.
Nine (ナイン)-is the largest and last digit correlating "finality" and completness.
Appearance
Personality
Info
The mysterious girl who looks nearly identical to Carol. She carries a small box and tries to flee from Carol, but then runs into Hibiki and the others.
She is prone to cowardly words and actions, however she is strong at her core, and has been known to take drastic and brave actions at times.
History
Trivia
According to Bible, Carol is Cain; while Elfnine is Abel.
Her seiyuu is Misaki Kuno.
She is the counterpart of Celica A. Mercury from Blazblue series.
External links