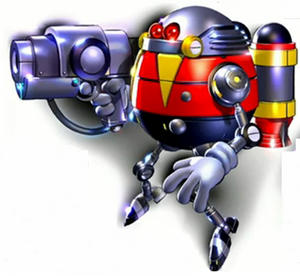 EggRobo is an egg-shaped robot that appeared in the videogame Sonic & Knuckles, designed as a parody of the infamous Dr. Robotnik (also known as Dr. Eggman) the robot acted mainly as Knuckles' enemy and fought him in place of Robotnik at the end of most stages as the primary antagonist.
Strangely enough despite acting as Knuckles nemesis the EggRobo was seen as little more than an average Badnik by Sonic during his levels.
EggRobo can fly with the aid of a jet-pack and can launch missiles at his enemies - as a boss he also operated some of the war-machines usually associated with Robotnik.
The EggRobos reappered in the video game Sonic Generations as classic enemies.
They have also appeared in Super Smash Bros. for Nintendo 3DS as enemies in Smash Run.